Business Outline
High level of customer satisfaction with five major advantages
There may be several reasons why customers in a wide range of fields trust Shoshin and select us. Being unique as a trading company, Shoshin has Engineering division with experts in the latest technology. Many of Shoshin sales staff are also sales engineers with experience and expertise.
With all these advantages accumulated, we provide customers high level of satisfaction.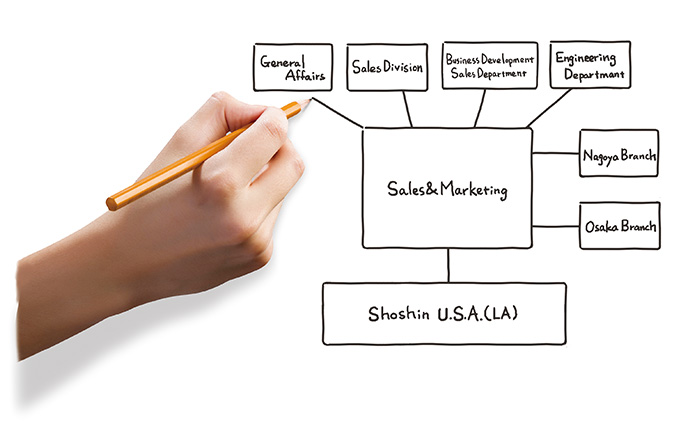 Engineering department acting as a technical intermediary

The way of thinking or common knowledge of engineers or quality managers differ according to their national backgrounds, which may arise unexpected inconsistency in understanding of specifications. Thus, we felt mutual understanding between domestic engineers, i.e. our customer and overseas engineers, i.e. our supplier, is absolutely necessary and decided to setup Engineering division which can contribute a great deal to close coordination of specifications, providing application technology as well as consultation. Our engineering staffs with international sensibility in addition to proven experience and expertise will work together with our sales staff acting as liaison between customers and suppliers to assist customers in product development.

Sales staffs possessing technical knowledge

Sales staffs dealing with cutting-edge products in a specific field always try to contact customers with technical knowledge and latest information.
Many of staffs are sales engineers with a degree in Electrical and electronic engineering. They are prepared to respond to customer needs most quickly and adequately ahead of our competitors with their expertise and antennae which captures cutting-edge-technology.

Product development capacity to meet customer requirements

Most of products Shoshin is dealing with are specialized components or systems, which can be supplied by only the specific companies with special technology. Shoshin also handles products for space as well as deep sea, which require quality assurance for use under severe environmental conditions. We respond to customers' requirement and assure them of quality and security of our products. We deliberately evaluate capabilities of suppliers in technologies, supply, technical support, and quality control, which are all Key factors for product development.

Reliable traceability and delivery management

SHOSHIN USA, our Los Angeles-based affiliate can acquire export license quickly and is capable to communicate with local suppliers smoothly. Thus traceability as well as quality and delivery of products already ordered will be managed properly to meet customers' expectations.

Over 60 years' vibrant history and trusted performance

Having entered into electronics industry soon after starting business, Shoshin has been introducing state-of-the-art devices or products from Western countries to Japan.
As a coordinator who connects oversea suppliers and Japanese customers, Shoshin has accumulated a great deal of performance and reliability. We are committed to furthering progress of electronics in not only aerospace and marine industry but also other industries.

Started as Shoshin Shoji Kaisha, Ltd. in 1947, Shoshin has developed along with rapid economic growth of Japan and changed the company name to present Shoshin Corporation in 1986. We moved to the current location directly across from the historical Nihonbashi-bridge in 2016.